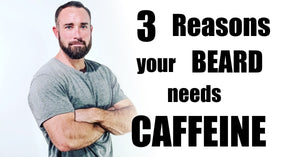 3 Reasons Your Beard Needs Caffeine
Caffeine is one amazing natural stimulant. It not only gives you energy and keeps you alert, it has also been known to increase metabolism. Recently studies have shown tremendous benefits of caffeine for hair and facial hair. Continue reading to find out just how beneficial caffeine can be for your beard.
Is this cocaine?
The answer to this question is: Absolutely Not! This powdery white substance is caffeine and this blog post is going to prove exactly why your grooming products, including beard oil, should contain caffeine.
Caffeine has been used in shampoos and conditioners for years to stimulate hair growth while also thickening and strengthening hair. Do you recognize this skin and hair care company? Every one of the following shampoos contains caffeine. There probably isn't any science behind it. Dove probably has a very small R & D department. Get my drift?
With the men's grooming industry experiencing explosive growth in the last 2 years, many companies have capitalized on beard growth remedies. However, there has yet to be one company that combines high quality, all natural oils with caffeine to stimulate beard growth while also thickening and strengthening facial hair.
Check out what the International Journal of Dermatology had to say about caffeine increasing hair growth in this Livestrong.com article. Did I mention science? Yes, this is proven!
1) Stimulate Facial Hair Growth
You see, caffeine stimulates the hair follicle at the root which leads to hair growth. In this article by stylecraze.com, research by the International Journal of Dermatology indicated that topical treatment with caffeine resulted in the increase in average growth of hair follicles by around 46%. You do the math. Caffeine is where the beard industry is going!
2) Thicken Facial Hair
Studies from the International Journal of Dermatology also show that topical treatment of hair follicles with caffeine extended the life cycle of the hair by 33%. When there is less hair falling out and more growth stimulation the result will be much thicker facial hair. You can read more about the great hair thickening benefits of caffeine here.
3) Strengthen the Hair Follicle at the Root
One of the best properties of caffeine is that it is biologically available, meaning it can easily be absorbed through the skin and hair. There are several ways to expose your hair follicles to caffeine, to potentially stimulate hair growth and strengthen hair. Caffeine consumed via food and beverages enters your bloodstream, and eventually reaches your hair follicles. In addition, your hair follicles can absorb caffeine directly via topical application of caffeine-enriched hair products, according to a study published in "Skin Pharmacology and Physiology." This allows you to expose your hair follicles to a high dose of caffeine, without causing the side effects that can occur due to high-dose caffeine ingestion. When you treat hair at the root through topical application the hair follicle itself is strengthened.
For even more information on how caffeine effects hair growth, check this article out!
So after reading the cold hard facts, you are probably wondering, where can I get a high quality beard care product that contains caffeine to grow and strengthen my beard? Enter WINNERS Beard Company. Our new line of Beard Oil, WINNERS Elite, is one of the only premium beard products on the market that uses all​ natural oils combined with caffeine to nourish and enhance your beard.
WINNERS Elite Beard Oil contains about 1 cup of coffee per 1 oz bottle. It doesn't seem like a lot, but from what you just learned about how easily caffeine is absorbed into the hair and skin you know this beard oil will pack a serious punch! WINNERS is also offering a ridiculous deal to all readers of this blog. For all initial orders customers that click the "Buy Now" link below, will receive 50% OFF their first order of WINNERS Elite Caffeinated Beard Oil.
If you are not yet completely convinced that WINNERS Beard Oil will help you grow a thicker, stronger beard faster just pick up a few of these samples. They are only $2. You will not regret it.
Finally, WINNERS offers the best guarantee in the business. If you are not completely satisfied with the product you will receive a check for 2X the amount you paid for the product. Try finding that with another men's grooming company!
Thanks for reading this blog. If you want more tips on how to grow a fantastic beard and get great deals on men's grooming products, sign up now!
---