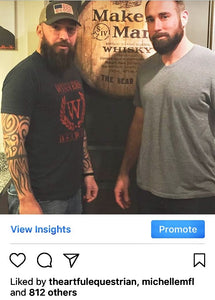 How WINNERS came to be... Our Story
Winners Beard Oil was created by former U.S. Marine Dustin McKenzie and ex-professional baseball player Ryan Bear. The two absurdly intense entrepreneurs from Nashville TN had one monumentally important thing in common: WINNING! Both know the dedication it takes to be the best at their trade. Both know the hardships that must be endured to taste success. Once the beard oil market exploded and after trying dozens of inferior oils, McKenzie and Bear felt the need to offer one excessively superior beard oil. Their mindset as with anything is, if you're going to do it, do it right and be the best. PERIOD. This is how WINNERS was born.
About Bear: I grew up in the Panhandle of Florida spending most of my time honing my baseball skills. After attending the University of Central Florida in 2002 and 2003 I was drafted by the Florida Marlins. I returned to UCF and graduated with a BS in Business administration in 2004 and went on to play 4 more seasons in the Marlins organization. I hung up the spikes after the 2008 season and moved to Nashville, TN. There I met Mack and formed a friendship that would create the opportunity of a lifetime. Mack and I agreed that mediocrity will never be accepted and Winning is the only option, whether it refers to a game of beer pong or the game of life. Now with magnificently nourished beards and laser focus we strive to not only inform others of the benefits of a healthy beard, but also the benefits of a positive outlook and an intense passion for success.
About Mack: I was born in Plymouth NH and spent the first 18 years of my life in the area. Upon graduating high school I joined the Marine Corps and spent the next five years training, fighting, and dreaming about the glorious beard I would one day possess. The next ten years brought on travel and brief stays throughout the United States. After conducting a year long study on what it's like to date a hippie in California, I made my way to Music City. Not long after that I was introduced to Ryan. We began brainstorming on how we could share our enthusiasm for Winning and inform others about the benefits of a positive mental attitude. This is how the WINNERS Beard Company was born.
---