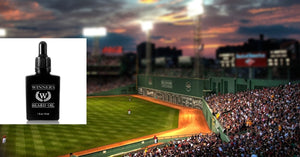 How WINNERS became a favorite of the World Champion Boston Red Sox

This is a true story about how WINNERS Beard Oil became a favorite of the World Champion Boston Red Sox.



Winners gravitate toward winners. This situation is no exception. Professional baseball is like a brotherhood. If you have experience in professional baseball other professional players immediately extend respect to you.
While I did not play at the Major League level, my 6 yrs of pro experience on the minor league side was enough to hold some water with some of today's best big leaguers.
So when I started reaching out to players to ask if they would like to try our product, the response rate was well above average. Of course every player did not respond, but one that did was Sandy Leon, catcher for the Boston Red Sox.
He also just happens to have one of the best beards in baseball too. What a perfect candidate for WINNERS Elite Beard Oil! I told him a little about my story as a former pro player and that my company had formulated what I believed to be the best beard oil on the market. He agreed to try the product.
In the time that passed between Sandy trying the product and the start of the 2018 season, I attended the MLB winter meetings in Orlando. There I met a gentleman working for a company that supplies high end toiletries to Major League teams.
I mentioned my story to him and said we already had some interest from big league players to try the product. He agreed to pick up the line and offer it to the clubs.
Shortly after the start of spring training I received a message from Sandy. He said he loved the product and wanted to purchase more. The next day I got another message from Christian Vazquez, also, a catcher with the Red Sox. He placed an order as well.
Word was starting to spread. Our product was good! Good enough in fact, for major leaguers to order and reorder. These same major leaguers have access to every high end designer brand you can imagine, yet they wanted WINNERS.
With this interest, I followed up with my guy that distributes toiletries to the MLB clubs. I told him I had individual players on the Red Sox actually ordering on their own. He contacted the club and the next thing you know, I'm shipping orders in bulk straight to the Red Sox clubhouse in Fenway Park!


Boston went on to win the World Series in 2018. The best team, using the best beard oil. This was no coincidence! It just reconfirms our tagline: Winners wear WINNERS.
Is it time for you to join our team??  
---