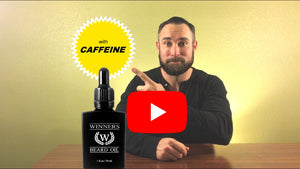 7 Reasons to Try WINNERS Beard Oil
In the men's grooming industry there are hundreds, if not, thousands of beard oil brands out there. Many of them are fantastic products. Many of them are not. It's up to you to do the research and figure out which brand or brands you should use and why. Here are 7 reasons we think you should give WINNERS Beard Oil a try...
1 ) It will Make Your Beard Grow Thicker and Fuller - WINNERS Elite Beard Oil is made with pure caffeine, which has been proven time and time again, by science, to stimulate hair growth at the follicle while also strengthening the shaft of the hair. Check out this entire article - 3 Reasons Your Beard Needs Caffeine - for more information on why caffeine is an absolute "must have" ingredient in your beard oil. If you're not convinced, take a look at this article as well. The use of caffeine for hair growth is not theory. It is fact!
2 ) It will relieve itchiness and irritation from Growing a Beard, while Hydrating and Cleansing your Facial Hair and Skin - the carrier oils in WINNERS Elite Beard Oil are jojoba and sweet almond. Jojoba oil replaces the natural oils in your skin while the sweet almond oil acts as a disinfectant. This means no more irritation and itchy beard. This also means no more myths that beards are disgusting and unclean. Women don't wash their hair every day because it will dry out and damage the hair. Why should you wash your beard every day? You shouldn't. You should be using a beard oil that has cleansing and disinfectant properties as well as hydrating qualities. It's all wrapped up right here in a clean matte black bottle!
3 ) It will Make Your Beard Smell Amazing with a subtle, warm, woodsy scent that is not overpowering - the essential oils in WINNERS Elite Beard Oil are vanilla and sandalwood. The sweet scent of vanilla has been used in perfumes and colognes for decades. Vanilla has even been classified as a natural aphrodisiac. There is something very unique about vanilla that appeals to the senses. Now on to the sandalwood. WINNERS uses pure therapeutic grade sandalwood essential oil. Health benefits of sandalwood include boosting and balancing testosterone levels naturally, among others. The woodsy scent of sandalwood is unmistakable. Regularly mimicked in a synthetic form, pure therapeutic grade sandalwood will typically cost $90 to $100 per half oz. There is no substitution for real sandalwood. Choose your beard oil wisely.
4 ) WINNERS Beard Oil comes in the Best and Most Convenient Packaging in the industry - yes a matte black bottle with a dropper top and chrome accents looks awesome, however the color was actually chosen for a reason. A black painted glass bottle keeps harmful rays of light from penetrating the oil and making it less potent. All essential and carrier oils will have about 1 year shelf life. A dark colored bottle keeps the oil in its original state for longer than clear, lighter colored bottles. The dropper top allows for easy dispensing of the oils, making sure you get the right amount every time, with no mess. The crushproof box, made of heavy duty cardboard keeps the bottle protected, while the foam inlay keeps the bottle snug and also protects it. This box combined with a 1 oz bottle, (TSA approved size) makes WINNERS Elite Beard Oil perfect for travel. Overall, you will not find better packaging in the industry. PERIOD.
5 ) You have Nothing to Lose. WINNERS offers a 2x Money Back Satisfaction Guarantee - We are 100% confident that you will love and enjoy this beard oil. In fact, we are so confident that if you don't, we will cut you a check for 2x the amount you paid. Learn more about our industry leading guarantee here.
There is no reason to doubt what so many pleased customers already know. WINNERS Elite Beard Oil is a perfect combination of science, packaging, quality and confidence. You won't find a better beard oil on the market, but if you do, we'll pay you back for buying ours.
6 ) WINNERS Always, Always takes care of their people - in this day and age customer service is almost non-existent. There is no face to face interaction. Everyone is sifting through what they find online, trying to decipher what is true. WINNERS prides it's name on treating people right and making sure our customers get, not only the best product, but also the best service in the industry. Our Beard Oil is not the cheapest, but you get what you pay for - top notch ingredients, the best packaging, and customer service that is second to none. Heck, many times we even throw in a FREE gift with your purchase just to show our appreciation! WINNERS is here to stay. Buy with confidence knowing that you will get a great product and a great value.
7 ) WINNERS is not a Beard Company. WINNERS is not a brand. WINNERS is a way of life - WINNERS was built on the mentality of being better. Stopping at nothing to break away from the pack. Not accepting mediocrity on any level, EVER. Doing whatever it takes to excel. While WINNERS is relatively new, we are building something BIG! (Check out Our Creed to understand the intensity with which we operate) There is a void in this industry and WINNERS is here to fill that void with a superior product and customer service that is refreshingly solid and consistent. In fact, we think there is a void in society. We are currently assembling a team that is comprised of individuals that persevere and simply do not accept failure. In a world of complaining, our customers are game changers. They don't look around and see who can help them. They see what needs to be done and they take charge with a confidence that demands respect. Here is a chance to be a part of something bigger than yourself. Stop accepting the norm. Demand better. Join the WINNERS team today!
---